OVERVIEW: The RASTRA INC Building System
 Background
RASTRA materials have been in the market for over 45 years.  The material is consider the original Compound Insulating Concrete Form (ICF), developed in partnership with BASF in Austria in 1972.  Since then over 9 million units have been placed in service.  Today, RASTRA INC not only produces under OEM agreements the original Compound ICF, but is recognized as the best product of any ICF category with blocks and flat panels installed throughout Europe, Middle East, Far East, North Africa and the Americas, in all types of climates from the Austrian Alps to the Saudi Arabian Desert, to the humid climate of Southeast Asia.
What Is RASTRA?
It is the ultimate building solution for economical and environmentally-friendly construction. This stay-in-place insulating concrete form system (ICF) is made of a lightweight composite material produced with 85% recycled polystyrene (EPS) and 15% cement by volume. RASTRA is the solution for this century to build environmentally conscious, energy efficient buildings that provide a safe and healthy living environment.  RASTRA materials are the original EPS Compound ICF.
RASTRA INC panels achieve strength from a combination of features specifically designed to maximize both shear and compressive strength.
First, there is the RASTRA INC MIXTURE- a lightweight mixture of small EPS beads and concrete combined to form a compound EPS concrete. EPS-concrete formulated with the right combination of shape, density, and structural material.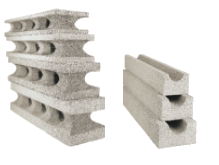 By itself, RASTRA blocks and flat panels are not considered a structural building material.  Wall strength is realized when steel reinforced concrete is added to the blocks. The interior cavities of RASTRA panels are designed to maximize strength when filled with concrete and steel reinforcement, creating a rigid skeleton of 6" columns inside the panel. The interior channels provide an extremely strong wall using the lowest possible amount of concrete ranging from 0.26 – 0.31 cubic feet per square foot of wall. By using different qualities of concrete and/or various amounts of reinforcement, in horizontal, vertical or even diagonal directions, the load capacity can be adapted to satisfy nearly any building requirement, including multi-story and seismic applications.
The lightweight components that make up the RASTRA system are used to form exterior and/or interior walls for residential, commercial, multi-family and industrial buildings. Building with RASTRA is fast, simple, and performed easily even by unskilled laborers and common woodworking tools. Vertical loads of up to 100 tons per lineal m (80 kips/lin.ft.) of wall have been successfully tested without failure. With optimum reinforcement, load-bearing capacity in all directions is increased. Installation is simplified as the RASTRA system consists of only two components: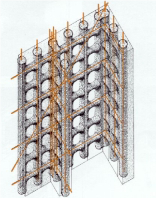 Pest Resistant
The mixture of cement and polystyrene in RASTRA INC materials creates an undesirable environment for insects. Insects actually hate this stuff. If you were a bug would you chew or lay eggs on concrete when the neighbor's house was built from wood?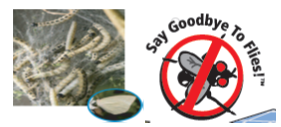 Unlike other ICF systems that use foam panels, RASTRA INC doesn't provide a place for termites, carpenter ants and other insects could use to migrate and nest. As lumber decomposes it becomes more susceptible to insects. RASTRA eliminates this problem. Small rodents that are usually attracted to wall cavities to nest have no place to hide with RASTRA. Because there are no insects, there's no reason to use pesticides that leach in to nearby soil.
Rastra Is Quiet   

RASTRA INC materials provide outstanding acoustical performance. The increased mass and density of RASTRA provides a very effective sound  barrier, keeping outside noise from penetrating exterior walls. Compared to a typical wood frame wall, 75% to 85% less sound passes through a RASTRA wall.
Scientists describe loud speech on the opposite side of a RASTRA wall as, "virtually inaudible." In an independent survey, owners of 74 new CICF homes and 73 new wood frame homes were asked what features they liked. Over 60% of CICF homeowners mentioned the quietness of their homes, versus only 2% of wood frame homeowners.
Interior walls built with RASTRA INC blocks reduce the movement of airborne sound from one room to another. Privacy is enhanced. Buildings with RASTRA INC blocks have a noticeable "quietness".
RASTRA INC materials provide sound attenuation of up to 53 dB (30 cm; 12 inch wall with covering on both sides), more than sufficient for separation walls between apartments, condominiums, offices and hotels.
RASTRA INC blocks is often used to create sound-sensitive rooms such as theater rooms, sound studios or media rooms.
Rastra – Safety
 An aerial view of New Orleans taken after Hurricane Katrina.  The only home left standing in this area was built with ICF panels
One of the most important features of any building is its ability to protect human life.  RASTRA INC's steel reinforced concrete walls provide a safe and secure environment.
RASTRA INC steel-reinforced concrete walls are 50% stronger than conventionally poured concrete and up to 700% stronger than wood frame walls. Safety when you need it most.
Safety features include:
Highly fire resistant – 4 hour rated @2000°F; material will not ignite; produces no toxins
Flame Spread 0; Smoke Density 5 (450 permissible)
Effective against hurricane force winds
Effective barrier from wind-driven debris.
Earthquake tested up to magnitude level 8 with no structural damage.
Cleaner indoor air quality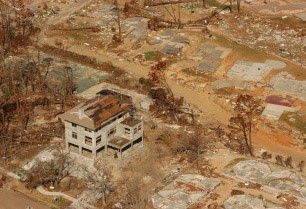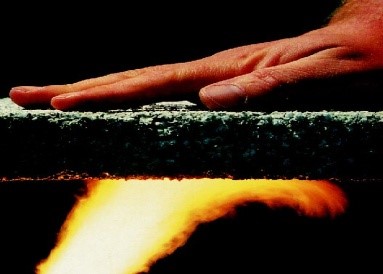 RASTRA's superior R- value and air tightness
Greatly reduces heat loss and lowers energy consumption. By increasing thermal performance with RASTRA, HVAC equipment operates less often, reducing energy costs. Because less moisture filled air penetrates exterior walls, air conditioners don't work as hard to remove humidity from the air. RASTRA even reduces heat loss from hot water pipes.
RASTRA  Maintenance
Maintenance- Is reduced in several areas that save time and money for the life of the property. This money saving feature reduces your cost-of-ownership, a good selling feature when resell is being considered. Traditional wood frame or classic construction is prone to ongoing maintenance over the life of the property.
Wood Rot – Eliminating wood frames eliminates wood rot caused by moisture and insects.
Paint – Because RASTRA is dimensionally stable, in other words it does not expand and contract like wood or classic concrete , paint is then less susceptible to cracking and lasts longer.
Stucco – Most stucco cracks are caused by wood frame or substrate walls that  twist and warp. RASTRA is dimensionally stable and greatly reduces stucco cracks that allow moisture to enter the wall cavity.
HVAC – Because the interior air is better controlled in a RASTRA built building, the HVAC unit doesn't work as hard or often. Fewer on-off cycles reduces wear and tear on the HVAC unit and extends its useful service life.
LABOR– Additionally no effective skilled labor is required for the manufacturing and/or erecting of a Rastra (CICF) house or structure.  This effective transfer of installation technique allows for development within market areas to increase employment.
TOOLS & RASTRA INC may be installed with conventional tools normally used in the installation of common building materials.
INSTALLATION RASTRA INC  blocks are very simple and do not need special skills. The elements can be used horizontally or in combination of horizontal and vertical assembly.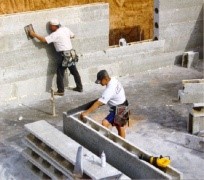 Other Considerations
Reducing the concrete in the wall translates to better insulating properties.  Using 2/3 the concrete puts 1/3 more insulation in the wall.  When completed, the wall performs even better; its substantial thermal mass dampens temperature swings.
Homeowners like the fact that the dense blocks can hold nails and screws wherever they're driven.  Builders like the fact that they can be cut and shaped with standard carpenter's tools.
Unlike foam panel ICFs RASTRA can be used below grade as insects are not attracted to our panel.  Foam panels provide an ideal place for insects to tunnel and nest and therefore are restricted by code in many parts of the country from being used below grade.
Feature & Benefit Summary
Lowest cost-of-ownership

Superior thermal performance, Effective R-value R-24 to R-48 depending on panel thickness

Energy savings for the life of the property

Greatly reduces air leaks

Provides more consistent room-to-room temperature

Extends HVAC service life

Dimensionally stable – reduces maintenance – maintains watertight shell

Non-combustible – 4-hour fire rating; much safer than wood frame construction

Enhances resale value

Up to 700% stronger than wood frame construction

Effective against hurricane force winds

High sound insulation

Impervious to rodents and insects,  including termites

Does not promote mold growth

More consistent room-to-room and floor-to-floor climate control

Improved interior air quality; no off gassing

Faster build-out; shorter construction cycles

Constructed of 85% recycled-content; 100% recyclable
        Why not build with Rastra Inc. Why not build with strength?